The feature documentary division focuses on telling powerful, longer format stories to inspire new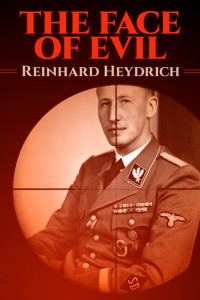 ways of thinking and to create lasting, positive change in society.
Co-founder and Executive Producer Rob Beemer's first theatrically released feature doc is "Reinhard Heydrich: The Face of Evil." As the main architect of the Holocaust, his life is a cautionary tale of the rise from the son of an opera singer to one of the top posts within the Nazi intelligence services. It's also an inspirational story that chronicles the bravery of the Czech resistance fighters who carried out the assassination of Heydrich, the highest-ranking Nazi official to be assassinated during World War Two. The documentary is a stark reminder that evil can be institutionalized and that common people have the ability to successfully counter oppression and recover their freedom. "Reinhard Heydrich: The Face of Evil" was also reformatted and aired on The History Channel as a two hour special.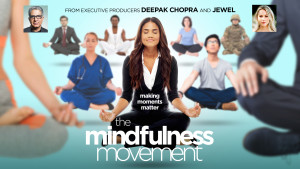 Interesting Stuff's second feature doc, "The Mindfulness Movement," in association with Executive Producers award-winning singer-songwriter Jewel and worldwide best-selling author Dr. Deepak Chopra, was supposed to be released in U.S. and Canadian theaters beginning in March, 2020 following a premiere in New York City, but the theatrical release was cancelled due to COVID. It was instead released digitally in April, 2020 and has already been seen in 90 countries. It is available on leading platforms such as AppleTV/iTunes, Amazon, GooglePlay/YouTube and Fandango. See TheMindfulnessMovement.com for details and streaming links.
Mindfulness is a special way of paying attention to your thoughts, feelings, bodily sensations, and everything in the world around you with a curious and non-judgmental attitude. By focusing on the present moment, you spend less time second-guessing what you did in the past or worrying about the future.  In other words, mindfulness is the paradigm-shifting antidote to the many sources of stress and distraction in our modern world! And there are years of studies supporting its scientific benefits such as lowering anxiety, depression and blood pressure while raising contentment and improving relationships.
The film features interviews with Deepak Chopra, Jewel, Dan Harris, Jon Kabat-Zinn, Sharon Salzberg, George Mumford, Daniel Goleman, Richard Davidson, Diana Winston, Bill George and more. Please visit the film's website at TheMindfulnessMovement.com to watch the movie, view our trailer and subscribe for newsletter updates.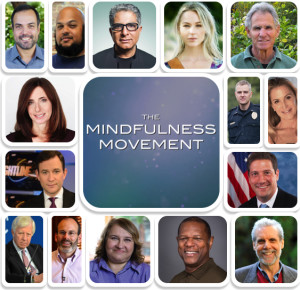 "The Mindfulness Movement" follows the emotionally compelling stories of four main characters (Jewel, Dan Harris, Sharon Salzberg and George Mumford) who reveal their personal hardships and explain how mindfulness transformed them. It also profiles other mindfulness experts and the growing number of people across the country who have made mindfulness a central part of their lives. Find out how they're developing this special mindset and why it's spreading to elementary schools, prestigious business schools, Fortune 500 companies, hospitals, police departments, prisons, the halls of Congress, the entertainment industry, and many more places. The documentary's goal is to help make mindfulness one of the foundations of a more compassionate, caring and ethical society to the point where it becomes as synonymous with a healthy lifestyle as eating well and exercising are today.